Project: The Agency Project
Artist: Alex Goldberg
When I was very young, probably around age 10, I saw a Yoko Ono installation where she invited viewers to take a little piece of white paper with verbiage home. Each paper had a different message. I carefully chose one that said, "Draw a map to get lost." I was so moved by this - the words were so simple - the paper so simple. I've kept this idea with me ever since. It trickles in and out of my thinking. Recently I realized that the methodology I am creating for The Agency Project is a system for drawing maps to get lost.
11/19/18
Prior to the development of The Agency Project, I was making these composition pieces…
These works are about the dance between creative work and life. They are a discussion about how everything we do with our minds, bodies, and eyes influences our personal composition at large. Today the way that we share our work and life, in realtime and through technology, has become a necessary evil. We are expected to divulge our truth and process while it is still in the making. This is vulnerability at its best and worst. The different modes of representation in my composition works are a visual interpretation of these tensions.
The making of these works gave me a real understanding of the kit of parts that is my practice and this was how The Agency Project was born.
The Agency Project developed from my personal need for a form of healing that came from my own development. I believe the human mind and experience is complex and infinitely individual. Our wounds are also unique and require our own upmost attention to heal.
The nature of modernity creates systems and patterns; sometimes to a fault. This project is about returning to an individualized humanity.
I have been working on a series of personal mapping projects that I see as case studies for a method that facilitates self awareness, transformation, and self acceptance. A mapping project beings once I identify an area that could use attention and then hone in on a specific method for collecting data.
It seems that I need some form of structure (a map) to set myself free. Structure is dangerous if you hold too tightly to it, but with free flow I lack focus and the ability to grow. The key is to find balance. When off balance, both structure and looseness give way to different methods for avoidance, and at the heart of it, these case studies are attempts at counteracting avoidance of truths.
The success in the work is that the acts of documenting, revisiting, and transcribing manifest awareness of both my reality and my agency over my daily life and the broader course of my life. My goal is to utilize the research from my case studies to positively influence other individuals and communities.
Case Study 2 -100 Days of Perspective:
100 Days of Perspective is the first completed case study. For this project I wrote down the most prominent negative thought I had about myself each day and then forced myself to notate a positive counterpart. I also took a picture of myself.
This project brought forth awareness that the things that I am frustrated by exist in part because of the choices I am proud of and have nurtured. It also highlighted the aspects of my life that I am not so honest with myself about and need to give more attention. It has brought an equilibrium and balance into my mentality.
The first construction of this work is a mylar scroll. It is transparent and double sided with positive notes on one side and negative on the other. This is an attempt at visually representing the different angles perspective can take.
The second construction is a deck of cards. The pieces are constructed similarly, but the outcome is different. These pieces can be shuffled and rearranged. The deck was created four months after the scroll and the process of creating the deck was quite different. The data feels like a memory and a reminder instead of a current process.
The act of writing my negative thoughts on top of my image and then flipping my image over to write a positive thought was transformative.
Case Study 1 - 1 Year of Spinning:
The next study is 1 Year of Spinning. This is a project where I notated everywhere I went for a year. At this time I had a very long commute, about three hours total train time a day, so I started spinning on the train as a way to keep myself calm. I felt like I never stopped moving and wanted to think about how all the different activities in my life relate to one another.
Spinning yarn is a very slow process. The act of doing this on the train was an attempt to stay in touch with myself and nature in a hyper technological environment.
This study helped begin shifting my mentality on alone time and self-care. Ultimately at the end of this year, I moved to a different neighborhood and am now much closer to the communities that I pour my energy into.
Case Study 3 - Notes on Yoga
The third, and newest, project is a study of how my physical yoga practice, and possibly other physical experience, helps me understand my mind and individuality.
The one hundred days project shed light on a lack of physical activity in my life and that I was perhaps emotionally cut off from my body.
As a child, dance was a major part of my life. Notes on Yoga is a study in returning to my spirit and finding a new found understanding for how physical practice and mental activity are deeply connected.
The structure of this project was simply to go to Yoga. While in yoga I would then have moments where my physical activity helped me to understand myself. Here are the thoughts from a few of those moments.
1/16/29
These case studies were effective and inspiring, but also very personal. How do you authentically translate a deeply personal process from one individual to another? I was feeling stuck on this question. I decided to go to Tiznit, Morocco, to participate in a workshop called Landscape of Care, to get out of my regular environment and work with people from different cultures and environments to cultivate energy and gain new perspective. I knew that the case studies require Intuition, Commitment/Accountability, and Reflection. I wanted to achieve this with other people while in Tiznit, but didn't put too much pressure on how it would happen. I decided that this time the structure would be to spend dedicated creative time with a group in Morocco.
On the first day of the workshop, I had an urge to work with my body and the natural materials in the Tiznit oasis. While creating movements with palm tree stems I was learning from the movement and my body just as I had in Notes on Yoga. This time nature, the relationship between body and object, and intuition were guiding the movement. I have a background in Dance, but have not danced in at least twelve years. I ended up spending the workshop exploring Performance and thinking about Relational Aesthetics as a new avenue for my creative practice. I also wrote a poem to share my experience and express in words what I was learning through movement. One of my Moroccan peers, Ilham, who had taught me some of her cultural traditions, translated the poem to Arabic. For my final performance we read the poem together in English and Arabic and then I danced with the palm stems that I had collected in the oasis.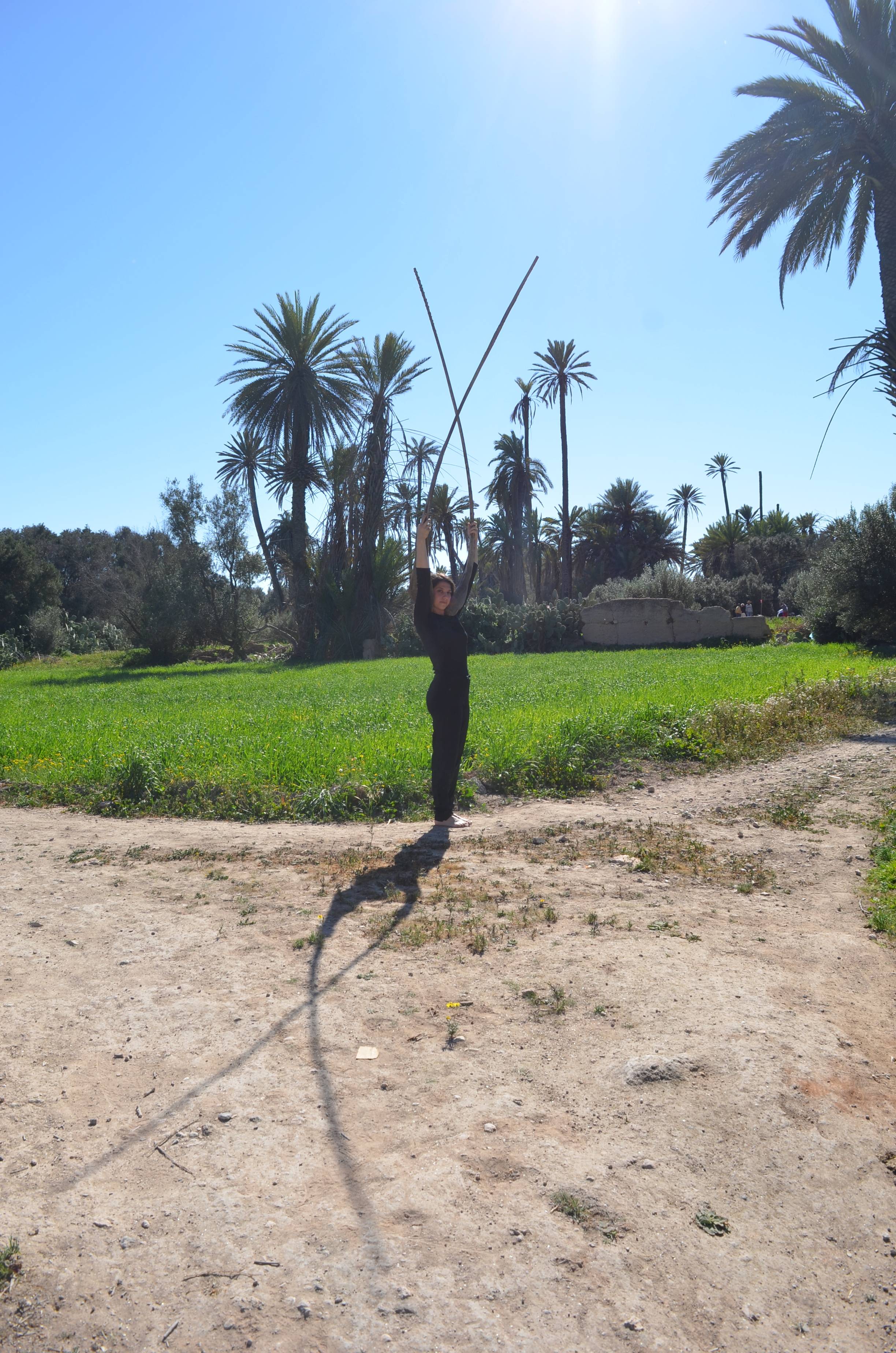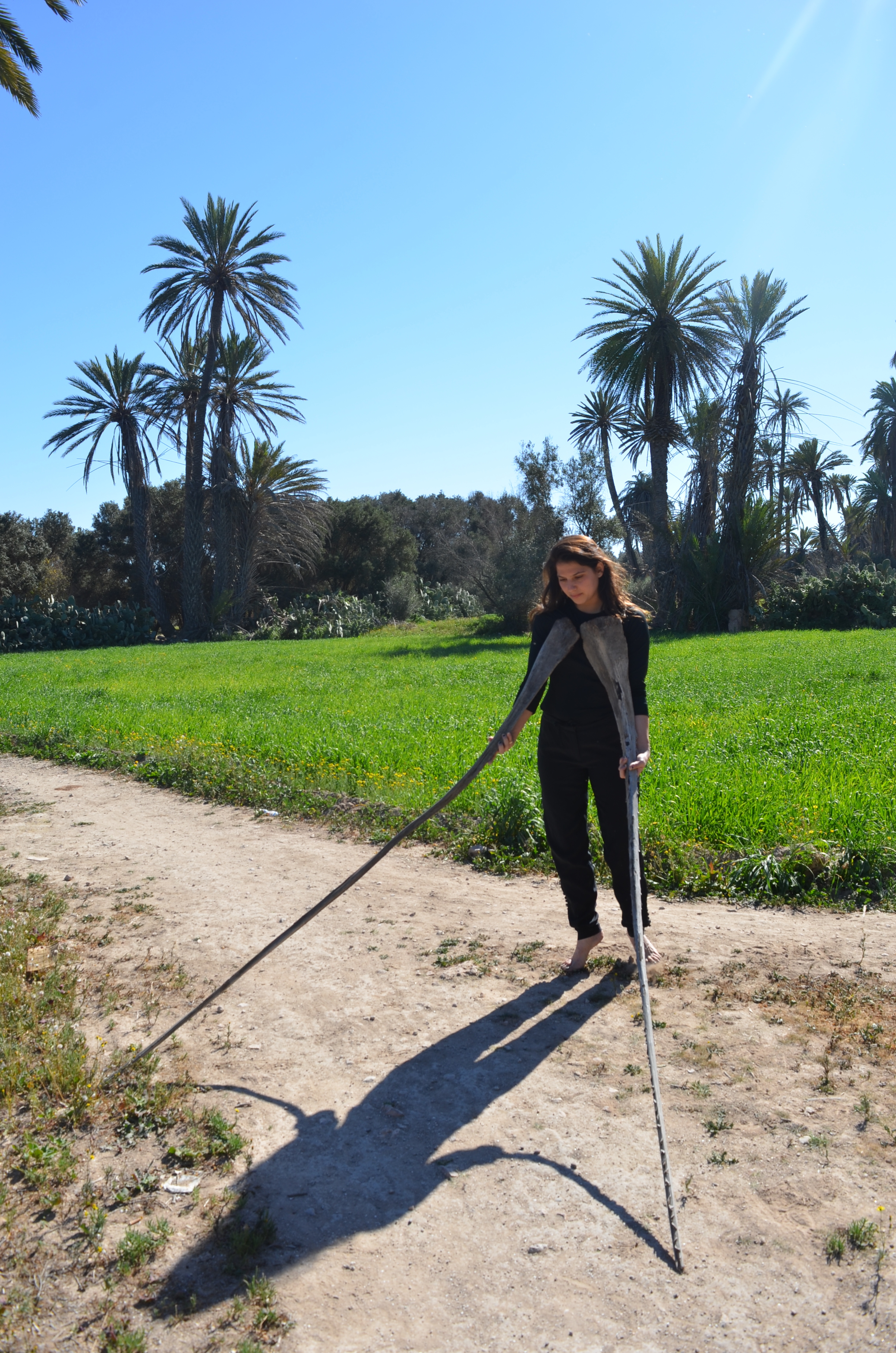 In process, and performance, this work was very vulnerable. I learned that sharing your vulnerability encourages others to be vulnerable in their creative work. When the creative process is happening within a safe space, people open up and share. I made close connections while I was there and started to recognize commonalities with my new peers. Common struggles, common methods for cultivating strength and creativity. I wondered what would happen if we worked on them together. Is this a way for the Case Studies to grow to work with others? Instead of it being an individual project, it can be two people working individually, but supporting each other towards a common goal. More on this idea later…
After an incredible fellowship weekend at Succurro, I am able to further select on my new research method that came to fruition in Tiznit, Morocco. My former case studies seem to be reconnecting me to my body and a physical practice. Throughout this fellowship, I am seeking balance in body and mind. I need to quiet my mind, so that it can listen to, and be in relationship with, my body. When I follow my intuition, my body leads the way, it knows how to feel without assumption, it knows how to be in the present.
This new work is about using my body and the way that it moves to research and connect with place and people. While in Morocco, I did this in the Tiznit Oasis. I collected natural materials and used body movement to understand my relationship to this place. I learned physical ritual from Illham to feel her experience. I let my body learn about this place and the people there.
Utilizing movement to research activates all of my senses, it keeps me in the present, it keeps me in touch with the authentic me, and therefore allows me to be in authentic relationship. Here is a video of our final performance at the new contemporary art museum in Tiznit.
3/24/19
For the last few days I've been revisiting an old process. I'm feeling relief in truly allowing myself to be a multi faceted maker. I catch myself constantly limiting myself by trying to define my practice. My creative practice can not be defined by technique or medium. It can only be defined by the commitment to experimentation and self discovery through practice.
This month I made these works and accessed a new understanding of this process.
This process occurs to help me see myself with honest eyes. To help me learn the way I act, and react, and change over time. To help me succeed in true relationship with person, place, or thing.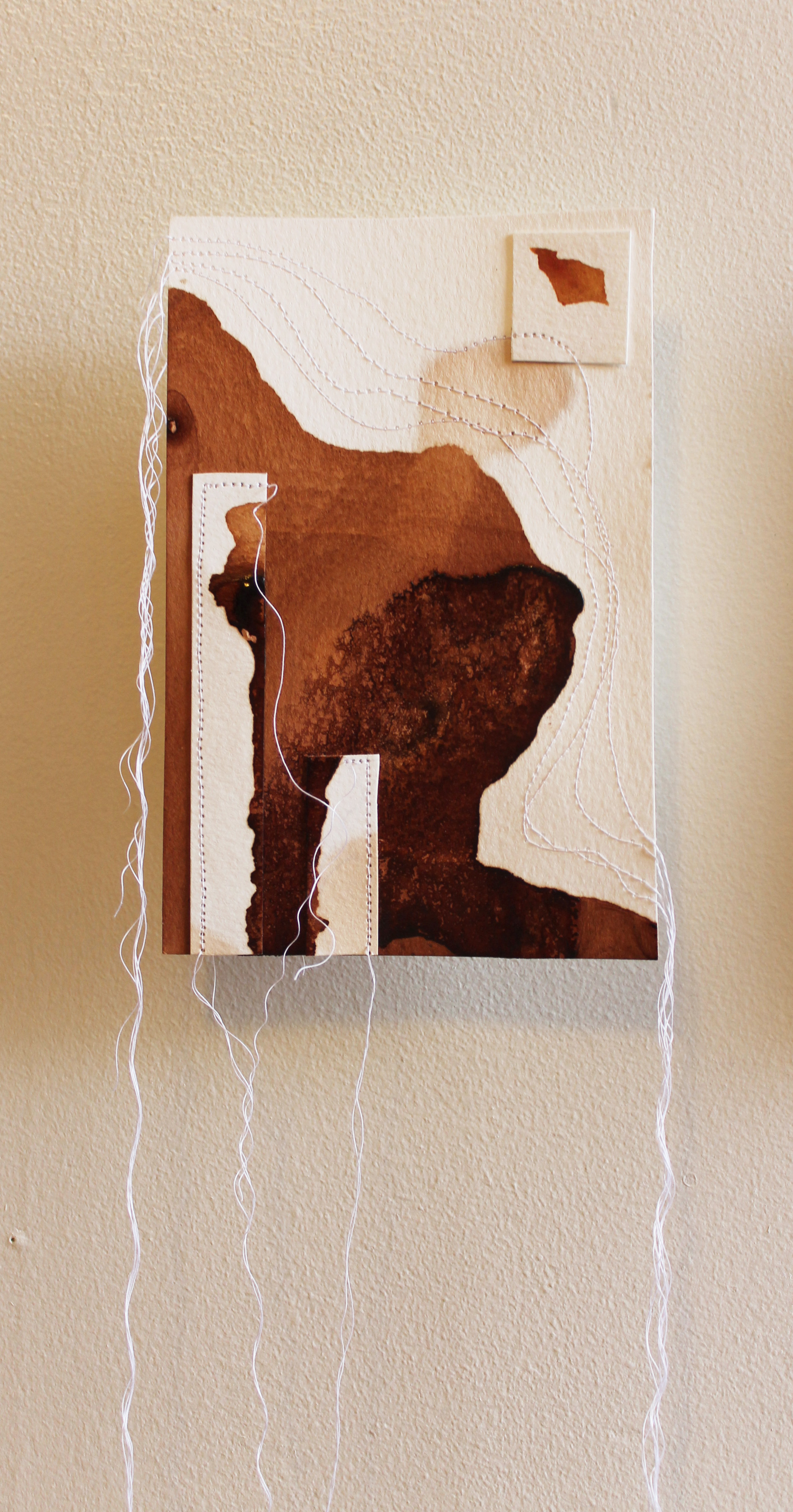 It has been six months since physical body movement reentered my practice in the Tiznit oasis. I am letting my intuition and feeling-self guide my practice. I am allowing my mind to take a secondary role and process this work in the quiet moments between intuitive practice. This requires a new way of writing about my practice because I don't necessarily have conscious reasoning for my choices. It is now solely based on visions and pursuit of discovery.
When I returned to New York, the process that I developed in Morocco needed to be adapted. Unfortunately the New York City streets are not covered in palm stems for me to interact with, and while I love the city, I did not feel compelled to search for a new material to move with. Perhaps the purpose of the palm stems was to get me moving again, and now the I am, I am onto something else.
In the past, I have created work about mourning. Shortly after my mother passed, I made an installation called Invisible Place. This work is a series of large scale bobbin lace works that are made of invisible thread. From a far, it looks like nothing is there, but up close you can see the intricate details of the lace. When light is cast on the work the shadows on the wall become more apparent than the actual lace. This work is about the presence that is reorganized and left on this earth after a human's physical body is no longer with us. The installation aims to simulate how this material affects the people mourning a loss.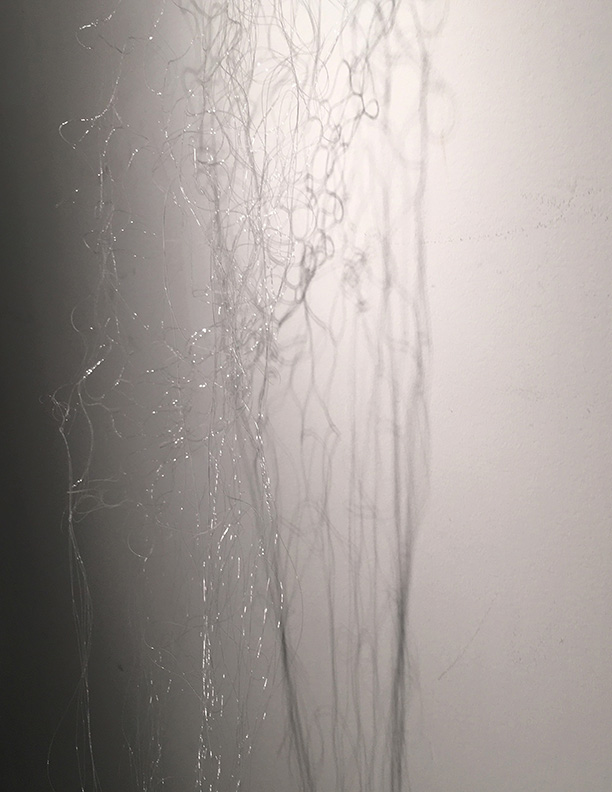 In Morocco I felt very close to the culture in which I was raised - more so than I have felt in. A long time. Many years ago, Jews and Muslims in Tiznit were very friendly and today some still are. The people I was working with were very excited by my desire to visit and interested in discussing the commonalities in these two cultures and our histories. This compelled me to revisit my Jewish roots and how the culture addressed Mourning.
In February, I began Mourning Wore Her. In this new body of work I am exploring how I can construct costumery to illustrate my inner world. In a sense I am turning myself inside out and using movement to interact with my costume (inner world) as a method for releasing and transforming emotion.

In this piece in particular, the ripped black ribbons reference Kriah, a jewish tradition where mourners tear a piece of cloth to help confront the reality of death. The act of tearing a dress worth of ribbon was cathartic. The weight of the ribbons on my body felt like the physical representation of the mental weight of death. The movement felt vulnerable and free.
My hope is that performances such as these will communicate with viewers experiencing similar feelings and be a small part of a movement to normalize vulnerability and the expression of deep emotion.
Shortly after I constructed Mourning Wore Her. I created Phantom Gown. Phantom gown addresses the layers of emotions that exist after an initial mourning period or time of trauma. The feelings may be faint to the feeler, or their community, but they are there and layered. Our energy gets tangled in them, sometimes creating a boundary or barrier between the feeler and the world surrounding them.
Phantom Gown is constructed out of layers of organza and hand spun yarn. The act of spinning yarn helps me activate my sense of touch and connect me to the present. With a clear head it is easier to understand my layers and communicate them to my community. Sharing with community dissolves the emotional barrier.
The layers in Phantom Gown exist to simulate the feeling of built up emotions. If they aren't flowing through me, they are all encompassing.
I am continuing to create garments that express my interior self and use movement to understand and communicate this existence. I am currently working on garments for a performance at the Succurro festival in July about reflection, projection, and dualities. I will share more about this process soon.