7/30/2019
Feeling Complete.
Every session ends with the question, "Is there anything else you need to feel complete?'".
My time as a fellow ended a week ago with the Festival and a wrap up team call. I said I felt cooked. Bread ready to leave the oven. I still feel that. But I also feel like this is a new beginning. I walked into the unknown, created the clearing and built the structure. I have a sense of clarity and vision I did not have before I began this work – began this fellowship. My battles have not changed but I have new tools I can use to face the inner and the outer demons. I have a framework. Order, balance, harmony, and flow.
5/28/2019
Getting out of the way.
After leaving a full time position, I took on a part-time role as I transitioned into a space where Fiberhouse Collective could pay all of the bills. This short-lived job helped me clarify what I already knew. During one of my first weeks working for an out of touch and volatile executive I found these words flooding out. He represented so much of what Fiberhouse Collective hopes to help change. He is the past, and we stand together to create the future.
_
I want to rip the earth
From his hands
From their grip
And tell them you can't have it anymore
It was never yours to have
_
I have often come back to the role of mars in my life. Is there a healthy way to express anger? Making something can transform rage into hope. As Fiberhouse's programming continues to grow and nourish I see the necessary duality of rage and acceptance, of unconditional love and fear. Of south and north node. Of the individual and the collective.
After our last fellowship meeting I have begun drawing again. Using flowers as paint. Blooming with the spring.
3/18/2019
Shaking things up.
The past few months have been coupled by a feeling of overwhelm. When shaking things up I released stagnation, but also exposed the less considered aspects of my plans. Exploring the threads that connect us has always been at the heart of the Fiberhouse mission, but up until this point it had existed within the confines of a class, workshop, or privates session. Through a residency program (which is also an experiment in radical intimacy), I will be sharing space and collaborating with other artists, designers, poets, scientists, researchers, farmers, and healers that want to integrate cloth that heals into their practice.
In order to do this, I had to break with my fear of moving things around. I had to clean. I took on the overwhelming task of organizing the tangible. This has allowed me the time and space to organize the intangible. I am learning overwhelm comes from building things up to the point where they are too heavy to lift, instead of moving things piece by piece.
This week the first resident came to stay. I turned my lists into action, my ideas into reality – but now I must iterate.
1/30/2019
Making moves.
This has been a month of internal and external shifts. Shifting dates, shifting responsibilities, shifting expectations. It has also been a month of building. Building new relationships and organizational structures. I have welcomed the collective into my home in a greater capacity.
We have started a residency program. Through the Fiberhouse Residency we hold space for individuals interested in creating cloth that heals with us in our Brooklyn based live/work studio. Residents will develop a collaborative project over a weeklong stay, culminating in a workshop to be hosted at the Fiberhouse that relates to each residents' personal practice.
We have also been exploring the threads that connect us to our environment. Making paper with locally foraged mushrooms. We are refining a step-by-step protocol to share with workshop participants and the myco-curious.
I'm feeling an abundance of gratitude to the real ones in my life today. I am wrapping up a collaborative project (that used mud to make screen printing ink!) that was dragging a bit. In the process I'm realizing I need to set more boundaries and expectations, to clarify timelines, and to ultimately continue exploring the best way to support others while supporting myself.
Through fellowship I have seen, experienced, felt,
pain within bliss, bliss within pain
order within chaos, chaos within order
Not one or the other
Polarities need the another pole
to exist
Reciprocity is needed
For growth
For understanding
For knowing
and unknowing
You cannot break down binaries
without breaking down the binary

You cannot have one
Without the whole.
11/13/2018
Finding my voice.
The past 3 weeks were a time of preparing, facilitating, and cleaning-up and asking for help. I tried to hold the diamond points while holding space. I asked friends to assist during workshops. In the process I learned a lot about setting expectations as well as the benefits of letting go and asking for help. This practice reiterated the power of the collective. How can you support more than yourself when carrying out a personal practice?
We need to redefine more than just the learning experiences – but also the behind the scenes – the making behind the making experience.
10/18/2018
Answering the question of reciprocity.

My question in our group session last week was – what is reciprocity (in and out of the classroom)?
My personal session answered this.

If you don't acknowledge the self
You can't move past it
Or move with it
Ignoring it will not make it go away
It will just amplify it

What do I do for others? (not just what do they do for me)
What role do I play in the collective? What role do individuals play in the collective?
We must first clarify what we want in order to share it, in hopes the other(s) will then do the same.
How can I see others, not as a part of the collective, but as their own individual self?
How can I accept myself?

My work has mostly been through others lately. How can I prioritize my own work?
Ways to support myself and let mars flow through me in a healing and physically productive way:
- More movement.
- More conscious movement.
- More space for thoughtful movement.
- Carve out time in the workday for my mycelia project (decomposing cotton with mushrooms - closing the loop by creating a food source from textile waste).
- Don't procrastinate the annoying little tasks – accomplish them.
- Only commit to teach classes that align with my / the collective's mission and goals.
10/6/2018
R words on my mind today:
Reflection. Reciprocity. Rebuilding.
Today I am focusing on the things I can control, not the can'ts. Working on a workbook for an upcoming felting class at Sheep and Wool Festival is keeping me in a state of flow instead of spiraling. I don't want to avoid the anger boiling up inside, due to the blatant patriarchy and white supremacy that is running this country (and world), but I also don't want to get overwhelmed by it. Spiraling can stifle, and prevent us from making the change we want to see. We have agency over our thoughts, who we follow, and what we believe.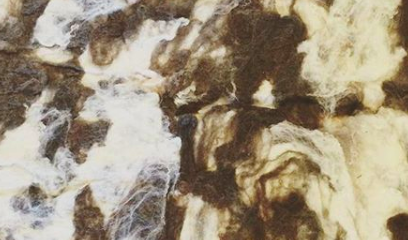 9/24/2018
Beginnings.
As a practicing artist, researcher and educator I'm working to create engaging and relatable learning experiences that allow participants to access their inherent creativity. My practice centers around textiles, and the threads that connect us. In many ways my approach to community focused education is as much about learning new ways of making as it is about unknowing together. I have begun, but want to expand my work with underserved and marginalized communities who often have the most important and groundbreaking stories to tell – if only they were given the space.
This is a journey, opening my process up to the great unknown…it does not come easy. But maybe that's the point.
We all went to the farm 2 weeks ago and met for the first time. 2 weeks later I am still processing. The golden rod I collected is processing too. I have been waiting for the right moment to let it simmer. To make color from my experience.

We spoke about intuition. Listening to oneself. Listening to others around us. Listening to the plants. To the wind. Listening.